Hi all,
I thought I might have a go at putting some stories on the website and maybe people will be interested and may even have some of their own stories to share.
So back in early September we received a message on our web site from a sailor in Finland named Matti who was looking for some information about Maricat Sails which we were able to assist him with.
I asked Matti if he could tell us a bit about the Maricat scene in Finland and I how he came to have his Maricat here is his response;
Hello Peter!
I'm happy to share my little knowledge about my boat! I might have been a little unclear on the last message, I meant to say that there are at least a few Maricats in Finland that I know of and I just bought just one of them and not an entire fleet :D. My boat's sail number is 2589 and it has been build in 1995 (or that's what I'm told :D).
From what I understand it has Mk II beams etc. and is mostly in it's original condition with the nice colorful sails, worn ronstan and fico blocks etc. The dolfin striker wire and some of the shrouds and forestays are newer but still used. Most of the ropes are fresh, some not even a few months old. I don't know much about the boat's history or how it ended up in Finland, I bought it only this summer. It was an older Australian fellow that sold the boat to me, I did not talk much about the boats history with him. But I know that he was the previous owner of another Maricat that he had sold a few years ago to another Finnish dude. Maybe somebody there might even know him, his first name is Joseph and I think he had managed to export both boats to Finland. He had kept this boat for the last years at his summer house besides a lake. I recall but I'm not sure that he said that he was the sole owner prior me. In any case, the boat has also been sailed in Australia, this can be even deduce by the amount of oxidation in some of the metal parts. The glass fiber is in excellent condition and I believe it will still last for years to come with proper storage and maintenance - i.e. water freezing in the cold Finnish winter can render any boat obsolete in an instance so you'll wan't to be extra sure that there is none left in any of the compartments.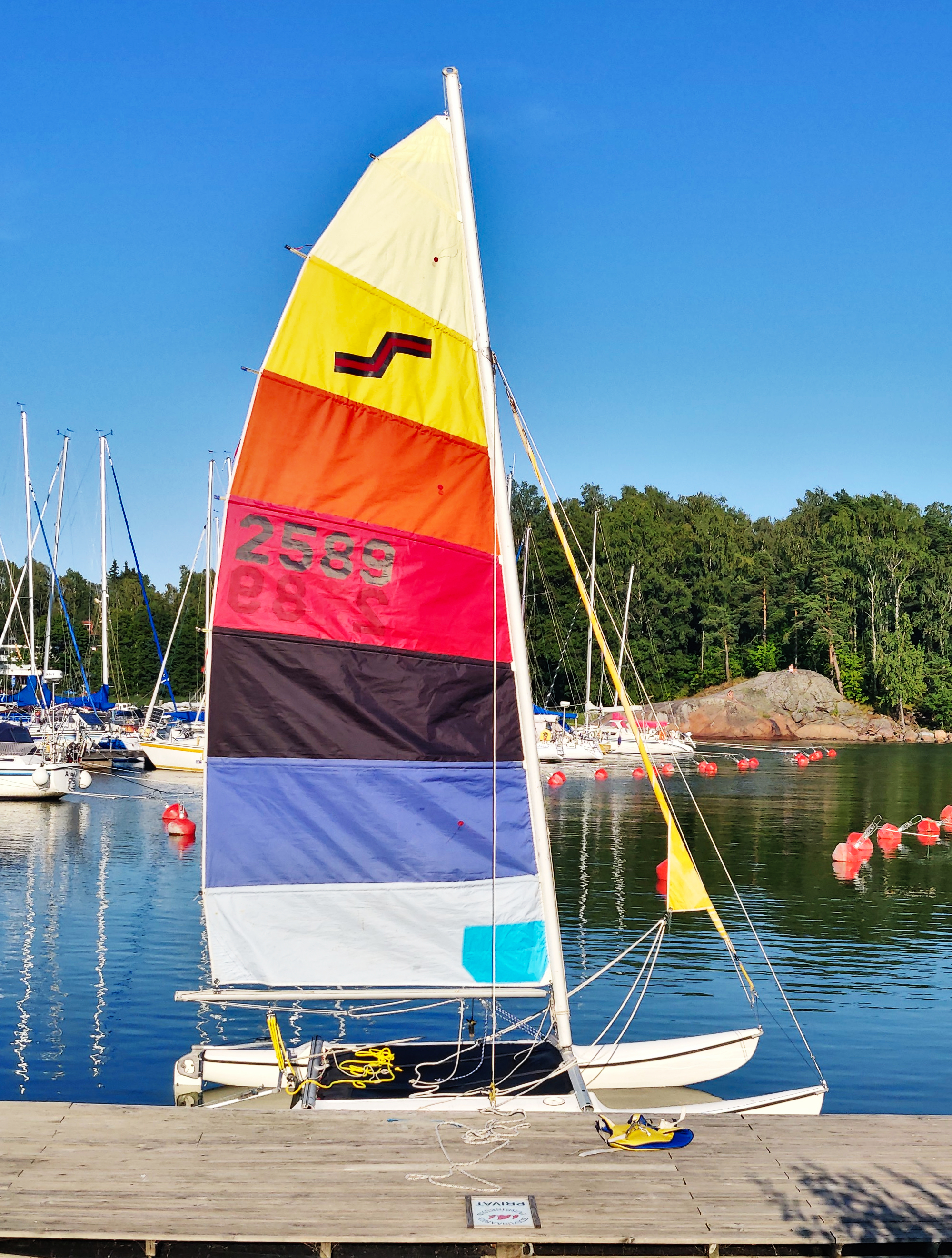 Matti's Mari - Looks to be in excellent condition.
Now it has found it's new home at our yacht club in Helsinki, the capital of Finland. There are some recent pictures attached taken there. I think mine is the only Maricat in town but probably not the only Maricat sailing on the Baltic. The others in Finland I know of are stored besides lakes. We also had to drive a few hundreds of kilometres with the boat and it's trailer on top of another trailer in order to get the boat here. The boat has it's original trailer which works flawlessly, however it does not comply with the Finnish regulation. It can only be used to store and transport the boat on private property such as the yard of our club, pulling it with a car on public roads is illegal. So that was quite a something we had to pull through, but the trip went eventually without any issues.
There is not much catamaran/multihull activity in general in Finland. An actively competing F18 fleet exists, but the few multihulls are just for fun. As such there is not much real racing opportunity for these smaller multihulls - apart from the F18 class of course. I have yet to try to sail one of those. My sailing background also stems largely from larger monohulls (30-35ft) that are specially designed to point as high into the wind as possible. These are the kind of boats most Finnish designer "believe in". I believe it is due to the way our coastline is set: hundreds, if not thousands if tiny little islands and rocks that you need to tack around in order to get anywhere. A well pointing vessel is just much more versatile in these kind of environment, not much open water to blast through with a catamaran. A 14ft catamaran on a day sail gives a nice alternative to this and also teaches whole new aspects about sailing, even compared to the smaller monohulled dinghies I've also used to learn sailing as a kid.
I mostly sail sloop rigged and solo, even in ~20 knots winds haven't yet found any need for the trapeze. I manage to balance the boat just well by sitting at the rear of the other hull. The first and only time I managed to capsize the boat was on the day I learned the hard way not to sheet too tight while managing the jib furler and not focusing on balancing the boat. After the pitchpole things got worse since the mast got stuck unto some muddy seafloor ~6m deep. Eventually the mast was filled with water and there was absolutely no way to right the boat. With a some help from some bypassers, it was the coast guard that eventually helped moor the boat ashore. The Maricat however proved it's reliability, after clearing a few kilograms of seaweed from the rigging and washing the sails with tap water the cat was back on track the next day without any markings from what had happened.
Regards,
Matti
So, there is Matti's Maricat story so far. I've been told that Maricat 4.3 was sold in America as a resort boat much like the Hobie Cat but at this stage I have been unable to confirm anything. They also have a bit of a following in NZ.
Do you have any stories about Mari's turning up in far away places? You can tell your stories on the blog. Join up and tell you story.